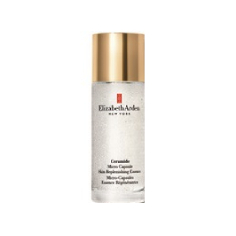 Ceramide Youth Restoring Essence
Infuse new life into your skin with this water-based treatment. Light-weight and hydrating, this fast-absorbing formula quickly adds vital moisture, lipids and nutrients leaving it feeling soft, supple, and perfectly conditioned—ready for the next step in your skincare treatment routine.
Go beyond basic hydration with Ceramide Youth Restoring Essence. This water-based treatment instantly absorbs and infuses new life into skin by delivering vital moisture, lipids and nutrients that are normally lost as the skin ages. Formulated with 73 minerals that naturally occur within the human body, in addition to a unique combination of Skin Identical Ceramides, a youth-restoring blend, these ingredients help restore the skin's moisture barrier and overall texture. The first step in your skincare treatment regimen, Ceramide Youth Restoring Essence leaves skin feeling soft, supple and perfectly conditioned. Refresh your skin with this revitalizing and fast-absorbing formula, a seamless primer to your daily routine.

Key Ingredients:
Ceramide Skin Identical Matrix— A unique blended ratio of Ceramides which are essential to a healthy moisture barrier.
73 Minerals—A balanced complex cocktail of revitalizing micro and macro-minerals. Natural source of 73 of the 92 minerals existing in the human body, including calcium, potassium, sodium, magnesium, and elements such as iron, manganese, selenium, zinc, for healthier looking skin.
Hyaluronic Acid Derivative & Pro-Vitamin B5—Attracts and retains water on the skin to help soften and moisturize skin.
Aloe Vera Complex—A natural plant extract that hydrates, soothes and calms the skin while also preserving moisture.
CERN40216