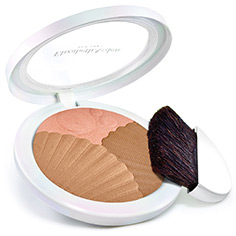 Sunkissed Pearls Bronzer and Highlighter–Warm Pearls
Create the perfect sunkissed look with this bronzing powder and highlighter duo. Infused with microlight minerals and Vitamin E, the bronzing powder blends effortlessly for natural golden warmth while the highlighter provides a beautiful luminous glow.
This bronzing powder and highlighter duo instantly gives a sun-kissed, contoured glow to the skin complexion. The compact includes two bronzing shades and one highlighting shade which are formulated with skin perfecting ingredients to protect and illuminate skin. Sunkissed Pearls Bronzer and Highlighter is packaged in a pearl white compact with a window and includes a natural hair brush for easy application.
Key Ingredients
• Vitamin E: Environmental protectant that helps to protect against environmental stressors that cause visible signs of ageing.
• Argan Oil: Rich in beneficial nutrients including fatty acids and vitamin E, argan oil helps keep skin feeling soft and moisturised.
• Illuminating, Microlight Minerals: Act as optical diffusers that work to scatter light and soften the look of fine lines and wrinkles.
Brush bronzer along cheek bones, apply highlighter to the bridge of the nose and along brow bones.
Inspired by the lustrous colours of pearls, Elizabeth Arden is excited to introduce the new Sunkissed Pearls Limited Edition Colour Collection. This collection combines subtle, iridescent tints with deep, mysterious tones from the sea.
B334CW1440