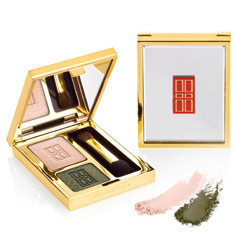 Beautiful Color Eye Shadow Duo
A beautifully blended eye look starts with perfectly paired colors. Our Beautiful Color Eye Shadow Duos are precisely matched to work together seamlessley. Instantly smooths and brightens the look of eyes while delivering luxurious skincare benefits. Vitamin enriched. Oil-free.
How many beautiful looks can two eye shadow colors create? When the colors are as perfectly paired as these, the answer may surprise you. Our Beautiful Eye Shadow Duos combine longwearing brilliant color with luxurious skin care benefits. Each Duo was precisely matched to take the guesswork out of blending and delivers results women are raving about.
Our crease-free formula also helps improve the appearance of signs of aging while protecting your skin from environmental damage. Each sleek, gold and silver mirrored compact includes two dual-ended applicators. You'll love that there's a bit more of the lighter, highlighter shade so you don't run out. For complete test results of this luxuriously smooth line of shadows, see below.
TEST RESULTS
- 100% say they're gentle enough for their eyelid skin
- 99% report it's easy to apply and comfortable to wear
- 96% report works well with all skin types
- 93% report that these perfectly paired colors glide on evenly without creasing
- 93% report eyelids look smoothed
- 90% report that these eye shadows are long wearing & have staying power
- 69% said their eye lids had a firmer look
- 67% said it gives their eyes a more youthful appearance
Beautiful New Packaging
The Beautiful Color Eye Shadows are encased in a new sleek, gold and silver compact with a mirror and a dual ended sponge and brush. The iconic Elizabeth Arden Red Door is embossed into each powder for a sophisticated look.
*US home use consumer test among 110 women over 2 weeks.
KEY INGREDIENTS
Our new Beautiful Color Eye Shadows offer skin care benefits that address both immediate and long term concerns. They help improve signs of aging in the eye area while protecting skin from future environmental skin stressors.
Advanced Pigment Technology: Each color pigment particle is coated with a blend of silky silicone, Retinyl Linoleate and antioxidants to create exceptional color saturation and luxurious, cushion-like texture. Eye shadow lays a veil of color on top of the eye lid without settling into lines and creases.
Retinyl Linoleate: Elizabeth Arden's patented Vitamin A derivative. Clinically proven to help minimize the look of fine lines and wrinkles, and support your skin's own natural collagen production.
Antioxidants, Vitamins C & E: Help neutralize free radicals, greatly reducing their destructive power on skin cells in the delicate eye area.
The buildable shades provide strong color saturation and outstanding wear. The smooth texture of the luxurious new formula is crease-proof, allowing for a multi-finish application that smoothes, brightens and lifts the look of eyes.
First, smooth the lightest shade of the duo across your entire eye lid, Next, create some contour by using the darker shade in the crease of your eye lid. For added dimension, use the lightest shade again to highlight under your brow and in the inner corners of your eyes.
Elizabeth Arden introduces a luxurious color collection that lets every woman discover her own unique beauty. Rooted in New York with more than 100 years of beauty expertise, these "must-have" products offer an indulgent experience for your lips, cheeks and eyes. These new products not only give you the color you want but also help pamper and treat your skin. Each is presented in a sleek, Art Deco-inspired package that features the iconic Red Door emblem. The Beautiful Color collection includes Lip Gloss, Blush, Eye Shadow and Mascara.
VD2C