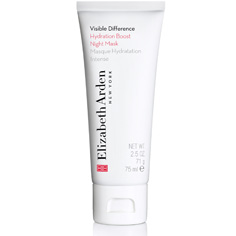 Visible Difference Hydration Boost Night Mask
Your skin tells you when it needs a moisture boost. When it does, this nighttime spa-quality treatment works with your skin's natural cycles to intensely hydrate parched skin and leave your face feeling wonderfully soft and smooth.
Nighttime is the perfect time to give your skin an intense hydration boost. Now you can enjoy a spa-quality hydrating mask at home right before bed when your skin is primed to absorb the maximum benefits. Just leave on this luxuriously intense hydrating mask for 5-10 minutes. You'll love the soothed, smoothed feeling it gives your skin. Use 1-2 times weekly to boost skin's moisture levels.
BEST FOR: DRY SKIN (But is also wonderfully effective as part of the Skin Balancing regime)
KEY INGREDIENTS:
• Chamomile: Naturally calms and soothes your skin.
• Gingko Biloba Extract: Energises your skin for a radiant glow.
• Kiwi Fruit Extract: Gently soothes skin.
• Vitamin A Palmitate: This vitamin A derivative helps diminish the appearance of fine lines and wrinkles, evens skin tone and skin texture.
• Vitamin C Derivative: Helps brighten the appearance of skin.
• Tocopherol Acetate: This Vitamin E derivative has antioxidant properties to provide free radical protection and help condition and restore skin.
• Shea Butter: An effective emollient and moisturiser.
• Glycerin: Provides optimum hydration to replenish and revitalise your skin's appearance.
To use: First cleanse and tone your face. Then apply evenly, avoiding your eye area. Leave on for 5-10 minutes. Rinse or tissue off. Enjoy weekly.
Your daily skincare regime can make a Visible Difference.
Skin types are as individual as personalities and can change with the seasons, diet, and stress. 100 years of Elizabeth Arden spa experience has taught us that nothing is more beautiful than beautiful skin. Whether your skin is dry, oily, or at times both, the new Visible Difference line of skincare essentials gives your skin the hydration it needs to appear healthy and radiant.
Specifically designed and customised for each unique skin type – combination, oily and dry – Visible Difference is a four part daily treatment process that cleanses, tones, treats and moisturises. See the difference a skin-specific, spa-inspired daily regime can make in your skin today and everyday.
VDFN40017