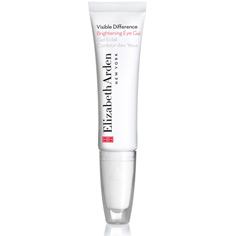 Visible Difference Brightening Eye Gel
Because skin around your eyes is delicate, it can often show signs of fatigue and stress the fastest. The clear gel rolls on to enliven tired-looking eyes, reduce the look of puffiness and target dark circles.
The delicate skin around your eyes sometimes needs extra special treatment. Roll on our soothing clear gel packed with natural extracts to enliven tired-looking eyes, reduce the look of puffiness and target dark circles. Your skin is lightly moisturised and left with a smooth matte finish. Ophthalmologist, clinically and dermatologist tested. Fragrance free and suitable for contact lens wearers. This treatment is suitable for all skin types and is recommended for daily use.
BEST FOR: ALL SKIN TYPES
KEY INGREDIENTS:
• Retinyl Linoleate: A gentle patented retinol derivative that softens the appearance of fine lines and gives the skin around your eyes a radiant look.
• Botanical Complex: A combination of plant extracts with brightening properties to enhance your skin's radiant look.
• Chamomile and Cornflower Extracts: Helps calm and soothe skin.
• Sodium Hyaluronate: Found naturally in the epidermis, this ingredient lubricates and attracts moisture to the skin.
• Centella Asiatic Extract: This extract helps tighten and firm your skin's appearance by supporting skin's natural collagen.
• Witch Hazel: Provides astringent properties to tighten your pores.
• Cucumber Extract: This extract cools and tones your skin.
• Coneflower Extract: Helps soothe and calm the skin.
To use: Squeeze a small amount and roll gently around your eye area. Avoid getting in to eyes. If product gets in to eyes, wash thoroughly with water.
Use the Brightening Eye Gel to boost the benefits of your daily Visible Difference essential regime:
1)Cleanse 2)Tone 3)Treat 4)Moisturise
Your daily skincare regime can make a Visible Difference.
Skin types are as individual as personalities and can change with the seasons, diet, and stress. 100 years of Elizabeth Arden spa experience has taught us that nothing is more beautiful than beautiful skin. Whether your skin is dry, oily, or at times both, the new Visible Difference line of skincare essentials gives your skin the hydration it needs to appear healthy and radiant.
Specifically designed and customised for each unique skin type – combination, oily and dry – Visible Difference is a four part daily treatment process that cleanses, tones, treats and moisturises. See the difference a skin-specific, spa-inspired daily regime can make in your skin today and everyday.
VDFN40014