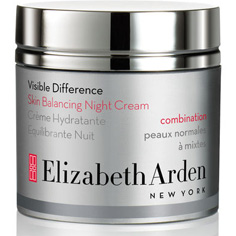 Visible Difference Skin Balancing Night Cream
Nighttime is your skin's natural time for repair. This cream helps optimise skin's natural cycle, working while you sleep to deliver the balanced hydration and support your skin needs to look luminous. Clinically and dermatologist tested. Non-comedogenic.
Scientists have found that sleep is a time for our skin to repair itself. In fact, skin cell regeneration almost doubles at night. Make the most of your skin's natural cycle with this multi-benefit Skin Balancing Night Cream. This lightweight yet highly effective cream delivers balanced hydration all night while working to restore and firm the look of your skin. Skin is left relaxed, revitalised, and ready for a beautiful new day.
BEST FOR: COMBINATION SKIN
KEY INGREDIENTS:
• Red Clover Extract: This botanical helps support your skin's own natural collagen to help strengthen, firm and tighten the look of skin.
• Narcissus Tazetta Bulb Extract: A naturally-derived ingredient that supports skin's natural metabolism rate to help combat the visible effects caused by stress. Your skin will immediately appear more radiant and pores will look minimised. Over time, it helps fights signs of premature aging.
• Retinyl Linoleate: An exclusive retinol derivative that gently and effectively retexturises skin, improves skin tone and skin clarity, and helps repair the appearance of sun damage. Your skin is left firmer and smoother looking.
• Tocopherol Acetate: This Vitamin E derivative has antioxidant properties to give your skin free radical protection and help condition and restore skin.
• Advanced Moisture Complex: A combination of high performance moisturisers, humectants, film formers and water binding agents, such as Trehalose, Sodium Hyaluronate, Urea, Sodium PCA and Glycerin, provide long lasting moisturisation. Advanced Moisture Complex bonds to the skin to create a water reservoir and lock in moisture to provide a continuous infusion of hydration.
To use: Cleanse and tone first so your skin is ready to absorb the maximum benefit of this nighttime moisturiser. Then, smooth gently and thoroughly over face and neck.
As always, you'll get best results if this is part of a consistent, daily Visible Difference essential regime:
1)Cleanse 2)Tone 3)Treat 4)Moisturise
Your daily skincare regime can make a Visible Difference.
Skin types are as individual as personalities and can change with the seasons, diet, and stress. 100 years of Elizabeth Arden spa experience has taught us that nothing is more beautiful than beautiful skin. Whether your skin is dry, oily, or at times both, the new Visible Difference line of skincare essentials gives your skin the hydration it needs to appear healthy and radiant.
Specifically designed and customised for each unique skin type – combination, oily and dry – Visible Difference is a four part daily treatment process that cleanses, tones, treats and moisturises. See the difference a skin-specific, spa-inspired daily regime can make in your skin today and everyday.
VDFN40012