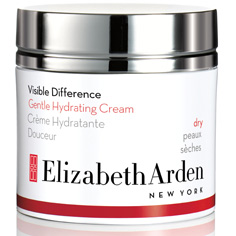 Visible Difference Gentle Hydrating Cream
Dry skin can be vulnerable to typical symptoms like dullness, flakiness and roughness. This cream works to provide continuous moisture and preempt moisture loss at its source. Leaves skin feeling soft and smooth.
For those with dry skin, it can be an ongoing struggle to moisturise properly and remove rough, dead skin without causing irritation. We've drawn from over 100 years of spa science to create a cream that hydrates gently yet continuously while helping to slough away dead skin and reveal your own smooth, healthy looking skin. Helps your skin maintain its own ideal moisture level and leaves your face feeling fresh and smooth.
BEST FOR: DRY SKIN
KEY INGREDIENTS:
• Advanced Filagrinol Complex™: This blend of botanical extracts (including Sage and Melissa Extracts), Squalene, Nuteline, Oligopeptides and AQUAXYL™ acts as a catalyst to provide a continuous supply of moisture, while also conditioning and firming the look of skin. Dry skin areas are reversed, leaving skin feeling visibly softer, smoother, more luminous.
• Essential Fatty Acids and High Performance Moisture Magnets: Including Sodium Hyaluronate and Sea Algae Extract to supplement your skin's own natural moisturising components and smooth skin.
• Retinyl Linoleate: An exclusive retinol derivative that gently and effectively retexturises skin, improves skin tone and skin clarity, and helps repair the appearance of sun damage. Your skin is left firmer and smoother looking.
• Tocopherol Acetate: This Vitamin E derivative has antioxidant properties to provide free radical protection and help condition and restore skin.
• Oligopeptides: This sugar compound helps bind and preserve moisture deep within the skin's surface layers to help prevent moisture loss before it reaches the skin's natural moisture barrier at the surface.
To use: Cleanse and tone your skin, then smooth this moisturiser gently over your face and throat.
As always, you'll get best results if this is part of a consistent, daily Visible Difference essential regime: 1)Cleanse 2)Tone 3)Treat 4)Moisturise
Your daily skincare regime can make a Visible Difference.
Skin types are as individual as personalities and can change with the seasons, diet, and stress. 100 years of Elizabeth Arden spa experience has taught us that nothing is more beautiful than beautiful skin. Whether your skin is dry, oily, or at times both, the new Visible Difference line of skincare essentials gives your skin the hydration it needs to appear healthy and radiant.
Specifically designed and customised for each unique skin type – combination, oily and dry – Visible Difference is a four part daily treatment process that cleanses, tones, treats and moisturises. See the difference a skin-specific, spa-inspired daily regime can make in your skin today and everyday.
VDFN40011