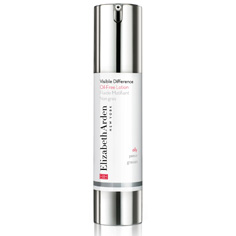 Visible Difference Oil-free Lotion
Moisturising while maintaining shine control is a challenge when you have oily skin. This ultra-light lotion comes to the rescue with instant and lasting shine control and oil-free hydration where needed. Also fights breakouts and blemishes.
Oily skin needs hydration too. You just have to give it the right kind. This oil-free wonder leaves your skin properly hydrated and smooth-looking with a soft matte finish while delivering lasting shine control and fighting breakouts. Clinically and dermatologist tested. Non-comedogenic.
BEST FOR: OILY SKIN
KEY INGREDIENTS:
• Retinyl Linoleate: This exclusive retinol derivative gently and effectively retexturises skin, improves skin tone and skin clarity, and helps repair the appearance of sun damage. Skin is left firmer and smoother looking.
• Tridecyl Salicylate: Skin conditioning agent.
• Licorice Extract: Soothing botanical extract.
• Antioxidant Complex: Including Vitamin E, Vitamin C, Grapeseed Extract and Gingko Biloba, this complex protects the skin against environmental aggressions.
• Talc: An oil-absorbing agent that provides a matte finish to the skin.
• Glycerin: Provides optimum hydration to replenish and revitalise your skin's appearance and prevent harmful stripping of the skin.
To use: Cleanse and tone your skin, then smooth this moisturiser gently over your face and throat.
As always, you'll get best results if this is part of a consistent, daily Visible Difference essential regime:
1)Cleanse 2)Tone 3)Treat 4)Moisturise
Your daily skincare regime can make a Visible Difference.
Skin types are as individual as personalities and can change with the seasons, diet, and stress. 100 years of Elizabeth Arden spa experience has taught us that nothing is more beautiful than beautiful skin. Whether your skin is dry, oily, or at times both, the new Visible Difference line of skincare essentials gives your skin the hydration it needs to appear healthy and radiant.
Specifically designed and customised for each unique skin type – combination, oily and dry – Visible Difference is a four part daily treatment process that cleanses, tones, treats and moisturises. See the difference a skin-specific, spa-inspired daily regime can make in your skin today and everyday.
VDFN40009