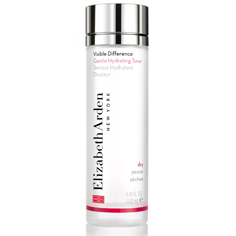 Visible Difference Gentle Hydrating Toner
To keep dry skin looking healthy, you have to remove the dull flakes that hide your natural glow. This unique toner sweeps away dead cells and surface film while priming your skin to receive the moisture it needs.
It can be difficult to refine and tone dry skin without causing irritation. But this toner does both beautifully while gently preparing your skin to absorb the vital moisture it needs. Leaves your skin feeling soft, refreshed and resilient. Clinically and dermatologist tested.
BEST FOR: DRY SKIN
To use: Gently sweep over cleansed skin with cotton. Follow with Visible Difference Optimizing Serum and Gentle Hydration Cream.
As always, you'll get best results if this is part of a consistent, daily Visible Difference essential regime:
1)Cleanse 2)Tone 3)Treat 4)Moisturise
Your daily skincare regime can make a Visible Difference.
Skin types are as individual as personalities and can change with the seasons, diet, and stress. 100 years of Elizabeth Arden spa experience has taught us that nothing is more beautiful than beautiful skin. Whether your skin is dry, oily, or at times both, the new Visible Difference line of skincare essentials gives your skin the hydration it needs to appear healthy and radiant.
Specifically designed and customised for each unique skin type – combination, oily and dry – Visible Difference is a four part daily treatment process that cleanses, tones, treats and moisturises. See the difference a skin-specific, spa-inspired daily regime can make in your skin today and everyday.
VDFN40007