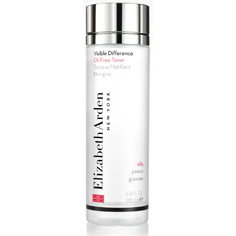 Visible Difference Oil-free Toner
If you have oily skin, a great toner is a key step in your daily regime because it helps absorb excess oil and relieve clogged pores. Ours gets the job done without stripping vital moisture so skin is left feeling deeply clean with a matte finish.
Clean pores and a matte finish are important if you have oily skin. This oil free toner provides astringent benefits for cleaner skin and helps minimise the look of pores, while skin soothing botanicals calm and refresh skin. Better still, it works over time to help intercept oily skin problems for visibly clearer skin. Oil-free, dermatologist tested, allergy tested and non-acnegenic.
BEST FOR: OILY SKIN
KEY INGREDIENTS:
• Oil Absorbing Powders: Provides your skin with a matte finish and helps absorb surface oils.
• Retinyl Linoleate: An exclusive retinol derivative that gently and effectively retexturises your skin, improves skin tone and skin clarity, and helps repair the appearance of sun damage. Your skin is left firmer and smoother looking.
• Carrot, Lemon and Rosemary Extracts: Skin soothing botanicals calm and refresh skin.
• Witch Hazel: Provides astringent properties to help tone your skin and reduce the look of pores.
• Licorice Extract: Soothing botanical extract.
To use: Shake well before using. Sweep over cleansed skin with cotton. Take care not to rub too hard. Easy does it.
As always, you'll get best results if this is part of a consistent, daily Visible Difference essential regime:
1)Cleanse 2)Tone 3)Treat 4)Moisturise
Your daily skincare regime can make a Visible Difference.
Skin types are as individual as personalities and can change with the seasons, diet, and stress. 100 years of Elizabeth Arden spa experience has taught us that nothing is more beautiful than beautiful skin. Whether your skin is dry, oily, or at times both, the new Visible Difference line of skincare essentials gives your skin the hydration it needs to appear healthy and radiant.
Specifically designed and customised for each unique skin type – combination, oily and dry – Visible Difference is a four part daily treatment process that cleanses, tones, treats and moisturises. See the difference a skin-specific, spa-inspired daily regime can make in your skin today and everyday.
VDFN40005