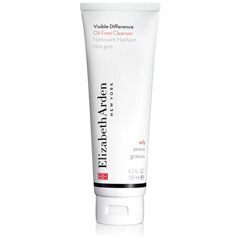 Visible Difference Oil-free Cleanser
If your skin is oily, it can be a challenge to cleanse and minimise shine without causing irritation and dryness. We've used years of research to create an oil-free foaming cleanser that's wonderfully effective yet mild and soothing.
Oily skin demands thorough cleansing without being dried out. We've combined a proven blend of botanical extracts, plus witch hazel and glycerin, to create a perfectly balanced cleanser that's effective yet mild. Our hardworking, oil-free foaming cleanser helps minimise the look of pores while providing optimum hydration (yes, even oily skin needs some) and leaves your skin feeling clean, energised and glowing. Dermatologist and clinically tested. Non-acnegenic.
BEST FOR: OILY SKIN
KEY INGREDIENTS:
• Witch Hazel: Provides astringent properties to help tone your skin and reduce the look of pores.
• Sage and Rosemary Extracts: Mild, yet effective cleansing system that soothes your skin. Both extracts are skin conditioning.
• Glycerin: Provides optimum hydration to replenish and revitalise your skin's appearance and prevent harmful stripping of the skin.
To use: Massage onto wet face. Work into lather. Rinse thoroughly with warm water. Follow with Visible Difference Oil Free Toner.
As always, you'll get best results if this is part of a consistent, daily Visible Difference essential regime:
1)Cleanse 2)Tone 3)Treat 4)Moisturise
Your daily skincare regime can make a Visible Difference.
Skin types are as individual as personalities and can change with the seasons, diet, and stress. 100 years of Elizabeth Arden spa experience has taught us that nothing is more beautiful than beautiful skin. Whether your skin is dry, oily, or at times both, the new Visible Difference line of skincare essentials gives your skin the hydration it needs to appear healthy and radiant.
Specifically designed and customised for each unique skin type – combination, oily and dry – Visible Difference is a four part daily treatment process that cleanses, tones, treats and moisturises. See the difference a skin-specific, spa-inspired daily regime can make in your skin today and everyday.
VDFN40002