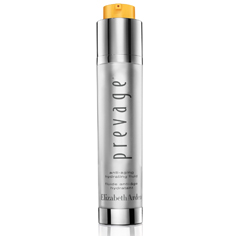 PREVAGE® Anti-aging Hydrating Fluid
This sheer, lightweight hydrator infuses skin with vital moisture as it protects and corrects the look of skin. Advanced Idebenone technology provides powerful environmental protection against free radical damage and helps correct the appearance of visible signs of damage left behind - fine lines, wrinkles, dark spots and discolorations. The silky, fast-absorbing formula is perfect for someone who prefers a lightweight moisturizer, has combination or oily skin. Skin feels smooth, refreshed and beautiful - day or night.
Antioxidant Protection
Delivers a powerful antioxidant complex to combat all three levels of free radical assaults. Helping to pre-empt environmentally induced damage for skin that looks smoother, refreshed and younger.
Restores Skin's Natural Defenses
Helps support skin's healthy barrier function and restores it's capacity for moisture retention
Sheer Hydration
Lightweight moisturizers keep skin soft, smooth and hydrated.
Turn top conterclockwise to unlock pump. Press to release product. Massage onto cleansed face and neck daily after PREVAGE® Anti-aging Daily Serum.
PREVAGE® anti-aging treatments.
Proof...not promises.
From Elizabeth Arden and a leading dermatological research company, PREVAGE® contains Idebenone (hydroxydecy ubiquinone), currently the most powerful antioxidant* for addressing the visible signs of aging including fine lines, wrinkles, roughness and discolouration. PREVAGE® anti-aging treatments promote a smoother, firmer, less lined appearance.
*When compared to alpha lipoic acid, kinetin, vitamin C, vitamin E, and coenzyme Q10.
PRVN40100