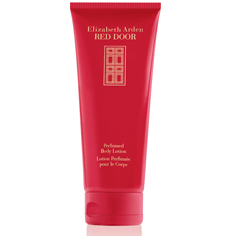 Red Door Perfumed Body Lotion
Silky lotion that hydrates and restores moisture.
Top Notes: Ylang-Ylang and Vibrant Red Roses
Middle Notes: Oriental Orchid, Jasmine, Lily of the Valley, Moroccan Orange Flowers, Forest Lilies, Rich Freesia, Carnation and Wild Violets
Base Notes: Oakmoss, Sandalwood, Spicy Vetiver and Honey
Apply a layer of body lotion followed by a spritz of perfume to keep fragrance from simply wafting away.
An elegant floral bouquet of deep, rich florals. A warm, full, inviting blend of sensuous notes. It's captivating, sophisticated scent fills the senses and creates a signature for the woman who wears it.
2516400