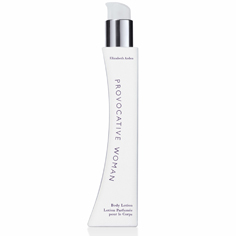 Provocative Woman Body Lotion
A creamy lotion that melts into the skin, leaving it soft, smooth and lightly scented.
Top Notes: Quince, Water Lotus and Ginger Lily
Middle Notes: Midnight Orchid, Papaya Blossom and Pink Freesia
Base Notes: White Sand, Red Amber and Hinoki Wood
Apply a layer of body lotion followed by a spritz of perfume to keep fragrance from simply wafting away.
Incites a new, exotic sensuality which magnetizes the emotions with a bold seductive signature. Experience the ultimate fusion of desire and sensuality.
PROB001